New Generator Testing Protocols; Step by Step Guide
In today's rapidly evolving technological landscape, power generators play an indispensable role in ensuring uninterrupted energy supply for homes, businesses, and critical infrastructure. As generators become increasingly sophisticated, testing protocols must also meet the demands of modern power systems. In this article, we will provide you step by step guidance regarding new generator testing protocols pre requisites, verification of equipment, observations during different load testing, safeties testing and any discrepancies etc to witness testing activity before dispatching it to the site.
If you are an engineer who is going to witness this type of testing at vendor facility from the client side, or from a consulting firm, or a contracting firm, then you are at right place. After reading this article, you will be able to know about the basic understanding of all this process.
Purpose:
First of all we should know about the purpose of this testing. This testing usually take place at warehouse of the factory or authorized distributor's warehouse in any country. This inspection is done to test the generator in presence of all stakeholders before dispatching it to the installation site. For this type of testing, representative from all stakeholders of the project witness different load variations test, different functional and safety protections test etc.
Testing Pre requisites:
During the scheduling of the testing, you need to work on certain pre requisite formalities for the smooth process. These pre requisites will help you to verify or cross checks during certain parameters and specifications of generator sets.
First of all, you need to ask from the manufacturer or supplier to send complete testing protocols and Data sheets of the Generator which is going to test. However, sample testing protocol and data sheet are attached for reference at the end of the article.In Testing protocol, you must have following information:
Genset:
Genset Model No.
Serial#
KVA Rating (Prime/Standby)
Make/Brand
Origin of Make
Manufacturing year ( prefer latest version)
Engine
Model No.
Serial #
Make/Brand
Origin of Make
Governor Type ( Electronic)
Water cooled /Air Cooled
Alternator
Model No.
Serial #
Make/Brand
Origin of Make
Nominal KVA Capacity
AVR
Control Panel (following parameters should be part of control panel)
Voltmeter
Ammeter
Frequency
Power Factor
Oil Pressure
Water Temperature
Emergency Stop
Battery Volt Meter
Physical Inspection:
When you reach the testing facility, you will be given a file, containing all above mentioned details for physical verification, observation, and recording of the observations and their parameters. you need to verify physically certain parameters of the generator,with respect to the documentation provided to you which are given below:
Genset Serial #
You can check it on the manufacturer's name plate of generator.
Engine Serial #
Check engine's serial number with respect to document and then verify this serial number through manufacturers app or any other online platform as perkins have its app for the verification of its engine details.
Alternator Serial #
Compare alternator's serial number on name plate with documentation for verification.
General Physical Inspection
Check for any physical damage or signs of mishandling during transportation.
Verify that the generator frame, enclosure, and external components are free from dents, scratches, or corrosion.
Jacket Water Heater
The jacket water heater in a generator preheats the coolant circulating through the engine, facilitating efficient startup, maintaining optimal operating temperature, and enhancing overall engine performance. It is essential for generators operating in cold climates or environments where maintaining optimal engine temperature is critical for performance, efficiency, and emissions control.
Load Testing
During load testing, generator use to run on different loads, from low to maximum and sometimes overload as well, to check the behaviour and load taking capability of the generator. If during any kinds of load variation, any kind of abnormal sound produces, it means there is something which is disturbing its performance or operation which need to be taken care. You need to run it on different % load.
First start the generator and apply load of 25% for certain period of the time. Timing is not fixed as per your own choice.
Now test generator for different load variations like 50%, 75%, 100% and 110% for certain period of time and note all readings like current, p.f, voltage, pressure, temperature etc. in a provided file for record.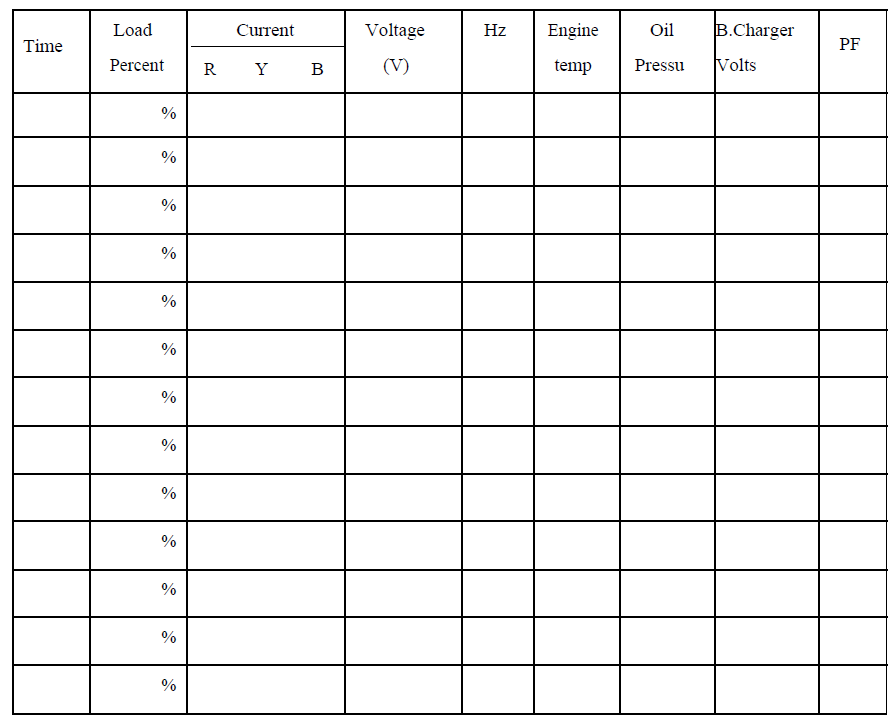 After running at different load conditions, note down the values of certain parameters from control panel screen for record.
If generator is of prime rating generator so it must be tested at 110% for 10-15 minutes. If you want to know more about the difference between prime generator and standby generator, read my another article.
Generator Running hours:
You should check the generator's running hours in control panel otherwise ask from the representative of the supplier or manufacturer. It means for how many hour it has been operated so far. It should not be more than few hours.
Generator Safety Function Tests
Generator safety function tests are essential procedures conducted to ensure that a generator and its associated systems operate safely and effectively. These tests help identify and rectify potential issues before they can lead to equipment failure, accidents, or unsafe conditions.
Fail to Start Test
High Coolant Temperature shutdown Test
Low Oil pressure shutdown
Over speed /Underspeed shutdown Test
Over & Under Frequency Shutdown Test
Emergency Stop Shutdown
Overcurrent Protection
After functional testing, you need to fill the document provided by the supplier, if there is any deficiency or abnormal thing found during testing. Write it in descrepancy list to make a part of this activity for clarification from the supplier.
In summary, As it is matter of great responsibility and care to test the generator because it involves huge investment of the client. So you need to be proactive during the inspection activity, should have well understanding of the generator before going to test this activity.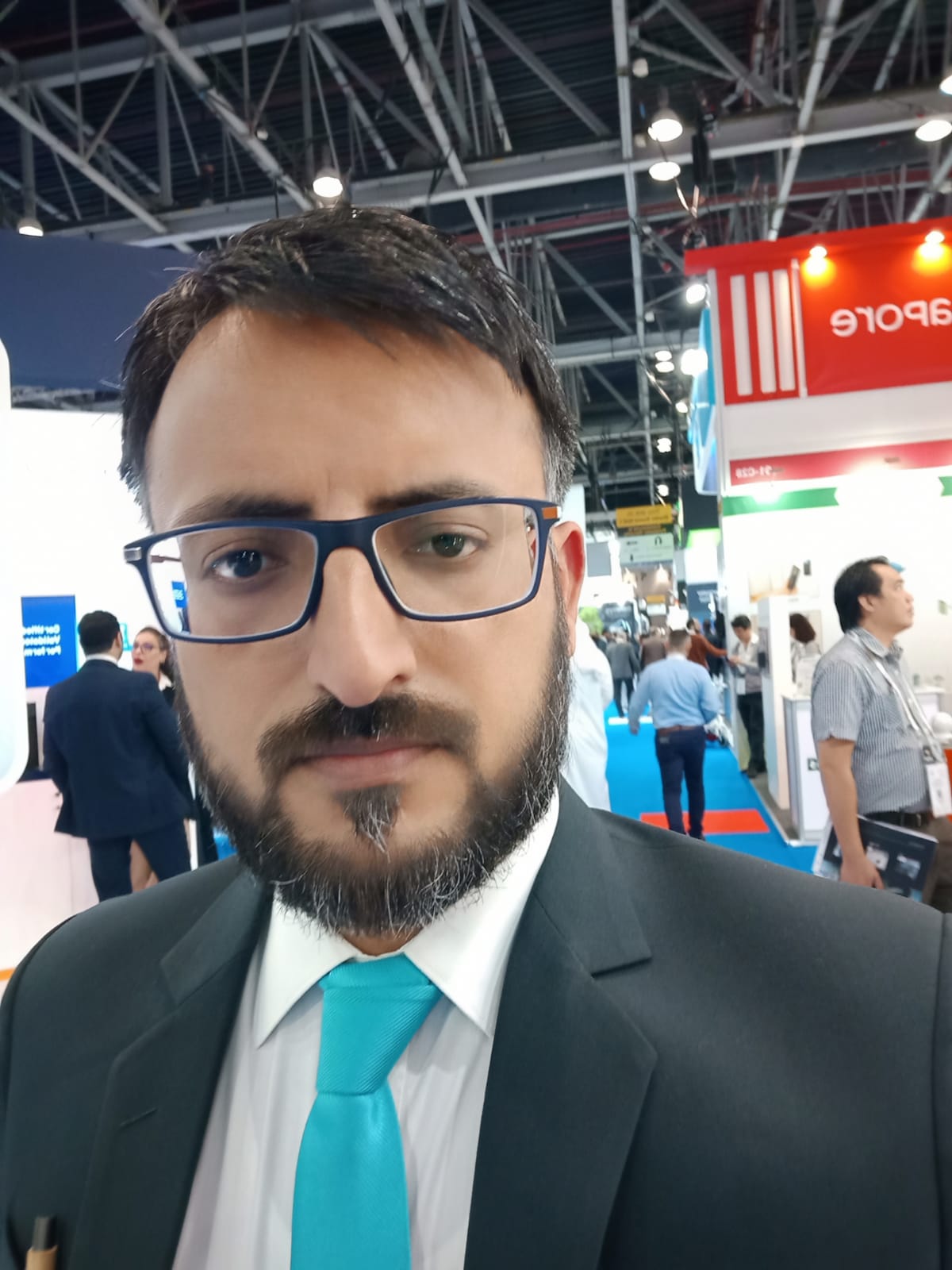 An experienced electrical professional having more than 8 years of experience of the industry in diverse fields of engineering including Electrical Design & Consultancy, Audit & Inspection, Execution of Construction Projects having expertise in designing of HighRise buildings, Residential & Commercial buildings, Offices, Schools, Restaurants and some Industrial projects